"We abuse the land because we regard it as a commodity belonging
to us. When we see land as a community to which we all belong,
we begin to use it with love and respect" - Aldo Leopold

WELCOME TO MILL FARM COMMUNITY GARDENS

Four decades ago, the Lee Traffic Circle had one restaurant, The Gateway, and an antique shop. Today it is one of the busiest traffic circles in New England. The land on route 4 next to Sullivan Tire has been wooded, and unused. The potential for organic gardening can be
a visible, viable addition to the Town of Lee, NH and fits the Lee Master Plan for 2005-2016. The 25 acres is a great natural resource, which will integrate with the rural agriculture heritage, and can be an asset wisely used for the sustainable use of resources for the residents of the Town of Lee.
~~~~~~~~~~~~~~~~~~~~~~~~~~~~~~~
~ ACKNOWLEDGEMENTS ~
It's important to give CREDIT when and where Credit is due!
.......therefore, Mill Farm Community Gardens would
like to acknowledge all those that have been a
SUPPORTIVE and INFLUENTIAL POSITIVE
FORCE with the inception of this project…

We are ever so THANKFUL to:
• Captain Scott Nemet/chief of the Lee Fire Department, for helping us with
all of our water needs.......
• Epping Well & Pump Company, Inc.
........& most IMPORTANTLY
• The Town of Lee for setting precedence with their vision and concern for
protecting 25% of their land as Conservation Land.
~ In turn, we feel supported with our agricultural efforts and sustaining vision!!
~~~~~~~~~~~~~~~~~~~~~~~~~~~~~~~~~~~~~~
GROW YOUR OWN!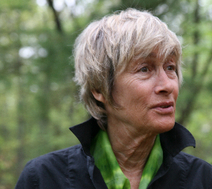 Karen Anne Gould
As a community organizer I wish to join the Lee Community and support the "mission statement" for the future. The land at Old Mill Road is to be used for organic farming for Lee residents to manage, grow, enjoy, and benefit with healthy food, community and exercise. The land will become your ally, friend, and will do most of the work for you and your family. Supply for organic vegetables in New Hampshire is 4% yet the demand is 40%. Let's join together with the already expanding small farm movement in Southern New Hampshire and continue to build upon the organic movement for independence, self-sufficiency, and further growth in the new post petroleum era.
Knowing what we know about the necessity of oil before food, that we must have oil (and cheap oil) before we eat.
Knowing the growing challenges to long distance transport of food, the inherent vulnerability of long supply lines.
Knowing the unpredictable and rising challenges we face of severe drought and flooding with consequent food shortages.
Knowing the competition between food and fuel, with fuel always on the winning side over food under present law and policy.
Knowing the danger of disease pathogens in monocultural systems of crops and livestock, and in narrow genetics.
Knowing the greater odds of food contamination inherent in industrial agriculture, as well as the nutritional values in highly processed agriculture.

We inevitably must conclude that local food and farming in New Hampshire, in the seacoast, in Lee and Durham and our other towns is an IMPERATIVE, not a choice. Gardening might be a hobby, but it is becoming a necessity. - John E. Carroll, Ph.D/University of New Hampshire, Professor of Environmental Conservation "LET'S GET STARTED!"
---